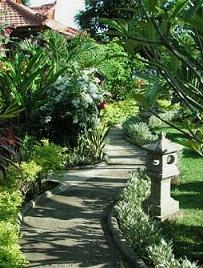 - SAWAH LOVINA - tropical garden -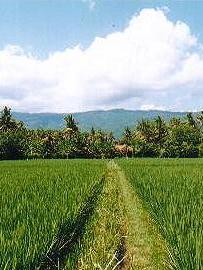 - Panoramic view of rice fields -
Last but not least, you will have your own private outdoor terrace, surrounded by a wealth of flowers and shrubs.

Our onsite restaurant provides excellent service from 07.00-until 22.00 hrs. Free Balinese coffee, and your choice of teas, are available during daylight hours.
Our staff members will go out of their way to make your stay a pleasurable one, and you will experience their world renowned hospitability.
From the rear garden, your panorama reveals traditional rice 'paddy' fields. These border the beaches of the endless North Bali Ocean, softly breaking it's waves on the sands. It is here that you come to understand our resort's name "SAWAH-LOVINA"
We provides unrivalled hygiene and the aforementioned hospitability for which the Balinese are renowned.
Within the garden surrounds exists a feeling of harmony, enhanced by all kinds of small creatures such as butterflies, crickets, small lizards, dragon flies and the ever-so-active flying squads of swallows. One may observe the quiet movements of honey eaters, exotic colored fly catchers or other insect hunters. They all find a place in our garden, and so may you, our honored guest! Soon after darkness and during your (no doubt), well earned sleep, the resort is bathed in soft illumination. Soft, because at some times, we like our guests to absorb the
majestical view
of the starry night sky so unique to North Bali. Below is the dark ocean horizon dotted with the small traditional boats on which many hard working fisherman labor to provide for the next day's fresh fish markets . During such a night stroll one may become aware of an alerted security guard, so "Yes we look after you all the way"